Casual Sex Rules For Men And Women.
Once, I found one Auntiji surprisingly open about her life. She articulately explained her philosophy on sex and relationships.
Having been married and divorced multiple times, she now welcomed "no strings attached' sexual encounters.
She felt thrilled at the hunt and the conquest. When I studied her over a period, I noticed that she was often depressed. Of course, she was hurt. Of course, she felt abandoned.
Women aren't biologically hardwired as nymphomaniacs. Sex doesn't interest women as much as it does men. While 70% viewers of Fashion TV and Miss Universe are men, nobody turns on Mr. Universe.
When a girl indulges in 'no strings attached' sex, she is very much aware of its downsides.
She knows that she can become a single mother and impose hardships or die in a gallon of guilt all her life. It has to be something very 'extreme' for a girl to have casual sex, which is:
Unspoken casual sex rules every man and woman should know
I don't give a fuck for what he did to me.
This babe has been dumped recently and is therefore feeling very low on self esteem. It is difficult for her to come to terms with the fact that "she" has been dumped.
After a period of denial, she feels an urge to check her 'market value' by hitching a smarter, richer and sexier guy.
She feels better. Her self-esteem rises. She feels assured that she is still the 'in' thing, very much capable of getting what she wants. Ironically, she goes about saying – I don't give a fuck of what he did to me – and goes about hooking several guys (better than ex) to prove her point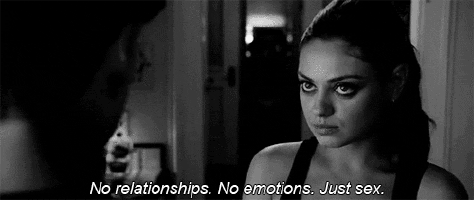 2. I want to test him right away.
Casual Sex Rules For Men And Women.Women, who are very insecure about their future, like to make sure about everything in advance. Even if its sexual compatibility.
Since she wants to do it for 'keeps', she doesn't want to cry foul after marriage. Downright blunt it may appear, she wants to check the man's 'performance' to know whether she would like to continue. For many, casual sex is also a ploy to hook a rich man.
They believe that if they do a quickie with a rich man, he would have no choice but to be with her, given they mated. They think sex means marriage.
When Hritik Roshan was asked of his views on casual sex, he said, 'Well and good, given one can take it casually.' So how casual is casual sex?
For girls, the morning after casual sex is full of guilt and hatred for herself. While men confess a sense of 'pride' in bedding an unknown woman, women confess of feeling anxious and depressed, which has an awful lot to do with religious and parental conditioning, which makes us swear to be one man's woman.
Casual Sex Rules For Men And Women
While men have high testosterone – the sex hormone, women have high oxytocin- the cuddle hormone. After sex, the brain releases an extra dollop of oxytocin, which is why girls feel like cuddling and caressing the partner's body, even after sex.
A girl might have sex for the sake of fun, but starts feeling that she has fallen in love the morning after. In girls the 'pyar ho gaya' hormone is at work. In men, the 'had fun' hormone is at work.
Read more